Contact Information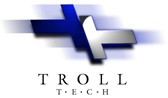 World Wide Web
The Troll Tech web server is located at:

http://www.troll.no/
Email
Troll Tech can be reached via the following e-mail addresses:
General inquiries and questions.
 
Inquires related to purchasing, pricing and availability of Troll Tech products.
 
Comments about our web pages.
 
Use this if you think you have found a bug in Qt. Please provide as much information as possible, including Qt version and your operating system and compiler.
Other
Telephone, general inquiries: +47 22 80 63 90
Telefax, general inquiries: +47 22 80 63 80
Street Address:

Troll Tech AS
Waldemar Thranes gt. 98b
N-0175 Oslo
NORWAY
---
| | | |
| --- | --- | --- |
| Copyright © 1999 Troll Tech | Trademarks | Qt version 2.0.2 |